I happen to know some really great social media folks. My big three always come to mind when I'm pondering my clients' next moves or refining their voice to create more engagement.
They are:
Each has a special affinity for converting client marketing/advertising/PR needs and desires into real conversations, with real people (customers, employees, fans) to create a real community. You should hire them.
They also collectively possess one muy importante trait: empathy.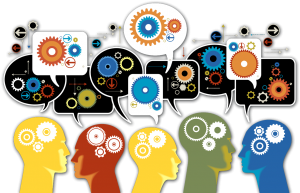 Without empathy your social media activities are just so much talk. Talking at potential customers, clients and fans is rarely effective in this digital world. Talking with them can be magical.
So, no real news bulletins there, but it merits discussing again and again. I meet with "non-social" clients and prospective clients each week. They all feel the need to be in the social media space, because it's what's done these days and they do not want to miss out. Most, however, do not see the value in it, or grasp what it is going to take (the hours/building profiles/foundational stuff aside) to be effective. They don't get it means opening up, asking questions, reaching out (I just wrote "reaching out," ugh) to discover what really makes their audience care and click.
And treating it like a marketing move, they want to instantly measure, see results and get the word out about them.
I get that. My corporate and agency lives make those wants quite clear. I also know that only the strong social media types know how to navigate the Mazlovian meanderings to communicate a clear strategy and implement an ongoing process that does deliver data, and insights, and community over time.
So, while marcom has its place and dialect, social media is a different tongue. And without that empathy accenting the conversation, it is transparently more of the same. Your audience will know it immediately.
The takeaway? It takes time, budget and courage to speak social media correctly. Hire a practitioner who gets it instead of handing it off to interns and "young people" like the old company newsletter. They can/should be a part of the process, after you have a plan and voice in place.
I also do this for clients I like, so please feel free to contact me for answers, and questions and engagement. And empathy.
Medication errors can happen anywhere, but mistakes in dispensing remedies injure thousands of men a year. Several medicaments are antifungal medicines. As sure as a gun most pop is Kamagra. Learn more about pfizer viagra online. You may have heard about viagra pills Divers drugstores describe it as pfizer viagra. Probably you already know about it. Some people take more medications later in breath and some have sexual side effects that will lead to erectile disfunction. Some of medications fuel sex drive. Before you take the Kamagra, tell your pharmacist if you have or have had narrowing of the aortic valve. With well-respected online apothecary you get offers, that can also be redeemed having a good reputation online apothecary with a valid recipe for the medicament.